Kaieteur Falls, the world's highest single drop waterfall (741 feet).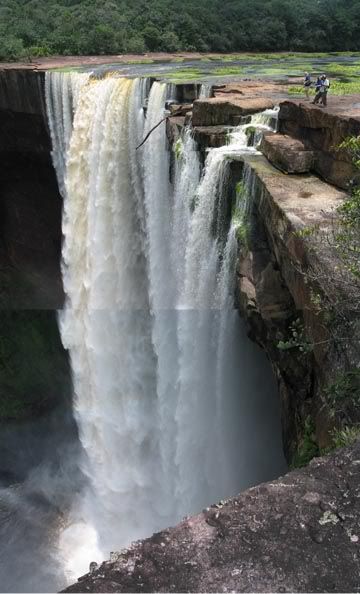 My name is Jonathan Bratt and I recently attended to Canada-Guyana Forum last month and noticed that there was a strong desire to help our fellow brothers and sisters in Guyana. To that end, I have secured a domain space on the internet which I hope we can all use to converse with another via an internet message board/chat room in between our regular meetings. In addition, it is my hope that we can promote our skills and services to various agencies/organization in Guyana and likewise, those who are fortunate enough to have internet in Guyana can do the same. Although I have decided to undertake this project on my own and am in no way working for any political organization or association, I realize that I must have the help and participation of each of you if this very important project is to be successful. It is my honest belief that we can help improve the current situation in Guyana by first establishing a strong dialogue throughout the Diaspora and I hope to do this through the internet site. In addition, it is my intention to work with people who are interested in preserving elements of our culture and history by posting such things as historical documents, memorabilia and old photographs so that everyone will be able to view and save them for their own use.
The intention of this email is to first announce the existence of the site and to ask for some assistance. I know practically nothing about web design and I need someone who is willing to donate their time and expertise in this area. I have already secured the domain through Blue Host web hosting services which I was told was one of the better hosts and I would be most grateful to anyone out there who would be willing to donate whatever time they have to help me get this site going. I don't think that it needs to be all that fancy, but we need to have a few things on it such as a title screen, message board, chat room and I am hoping to create an area where people can download pics and music free of charge. I would very much like this site to be up and running as soon as possible (no later than June 24, 2006) so that we may be able to tell everyone about it at our next meeting of the Canada-Guyana Forum. I know that a website may not sound like a "big step" in terms of solving the problems in Guyana, but I would like to assure all of you that a website such as this is necessary we need to establish a line of communication that allows us to share our ideas and concerns while perhaps forming solutions (by way of a think-tank). Please accept my apologizes for using the names on the Canada-Guyana Mailing Iist in this way but I desperately need to help of a website designer and also the participation of you all...
Should anyone wish to contact regarding this project, I can be reached at the following contact numbers...
Link