Kaieteur Falls, the world's highest single drop waterfall (741 feet).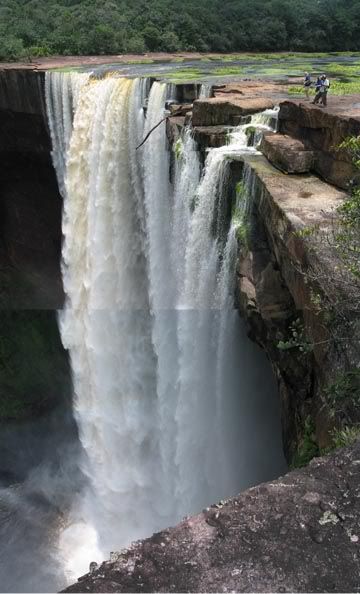 Govt. regulatory environment fraught with opaque and slow decision-making – U.S. Commercial Guide



By Duane Fowler



The United States Commercial Guide on Guyana , which is an advisory to U.S companies looking to do business here, warns potential businesses that the government regulatory environment is one fraught with opaque and slow decision-making.

The guide says an extraordinary number of issues are resolved in the Cabinet or the Office of the President, a process which is not open to public scrutiny and often leads to delays. The commercial guide and investment climate report which was released earlier this year also warned of the possibility of the violation of exclusive distributor and intellectual property rights. It said enforcement of intellectual property rights is lax, and noted that Guyana does not have a Bilateral Investment Treaty or an Intellectual Property Rights Agreement with the U.S. , so appropriation of brands and logos can be widespread.

The report also said that, while most U.S firms prefer to use a distributor or agent, a prevalent problem is the violation of rights of exclusive distributors, with small 'traders' travelling regularly abroad and buying wholesale quantities of second-hand or nearly expired items from discount outlets for resale here.

On a positive note the Cricket World Cup 2007 is being seen as an opportunity for investment in Guyana by U.S companies with the demand for hotel accommodation, transportation, logistics and security for the event providing ample avenues. Noting the current climate, the guide pointed out that due to floods last year real economic growth declined by 3%. Year on year inflation expanded to 8.3%. Gross international reserves in mid-2005 fell to US$232 million or 2.7 months of imports, compared to $246 million or 3.3 months of imports at the end of 2004. The report alluded to the relative stability of the Guyana dollar against the U.S since mid-2004. External Public debt was put at $1.1 billion at the end of 2005, with 90% of this being owed to multilateral development associations.

The trade relationship between the Guyana and The United States showed that the U.S is Guyana 's number one source for imports and the number two source for exports. Total trade between the two countries was over $258 million, with the U.S enjoying a trade surplus of $13 million.

While the flooding of 2005 was seen as extraordinary, investors are being advised to be wary of the risks of similar disasters and to secure their inventories accordingly. Investors are also advised to make adequate provisions for security. In market opportunities the guide advises companies that Guyana's demand for agricultural and mining machinery, telecommunications, wheat and auto parts, of which the U.S is the leading import source, will continue.

The report said U.S products benefit from an excellent reputation in Guyana, and this is attributed mainly to local television stations which broadcast U.S programming complete with commercials, and also the extensive ties with the Diaspora which reinforce popular familiarity with U.S products and services. The high degree of brand recognition makes franchising a good possibility for the successful introduction of U.S products and services to the Guyana market.

It noted too that the World Bank reports show that entrepreneurs interested in opening a business in Guyana can expect an 8-step process to register with the relevant authorities and this can take up to 46 days. Companies registering property may take a further 24 days. It pointed out that there is a fairly high incidence of property crime, so measures should be taken to plan for adequate physical security.

Direct marketing is not seen as widespread here in Guyana, with the lack of sophisticated market data making efforts to target potential consumers difficult. Notably, the guide tells potential businesses that, despite the proliferation of internet cafés and expanding availability of high-speed internet access, E-Commerce has yet to take hold in Guyana, as only a small percentage of the population have credit cards. Internet use is also not seen as widespread as subscription rates are fairly expensive. Consultations held by the Tourism and Commerce Ministry have shown that there is a perception among businesses that contracts entered into over internet may not be seen as binding. This is seen as inhibiting the development of E-Commerce activities as a vehicle for transforming traditional business models and extending the outreach to firms in the international market. The Ministry of Tourism has drafted an E-Commerce bill that seeks to establish the legal environment for the conduct of electronic commerce and the processing of electronic transactions, the report pointed out.

The report said too that major foreign investments receive intense political attention in an economy still dominated by the state. An annual survey of business confidence released in January revealed less confidence in the business outlook compared to the previous year. Among issues identified by the survey as having the most impact on business were fuel prices, political stability, consumer spending, electricity supply and exchange rates. The guide stated that in general foreign investors received the same treatment as locals.

It was not high in praise for the judiciary, however, pointing out that, although the judicial system is responsible for upholding the sanctity of contracts, it does not have the capacity to uphold its legal mandate. Apparent corrupt practices coupled with delays in the administration of justice are seen as making the courts a largely ineffective and undesirable way of settling investment or contractual disputes, particularly for foreign investors unfamiliar with Guyana's political scene.