Kaieteur Falls, the world's highest single drop waterfall (741 feet).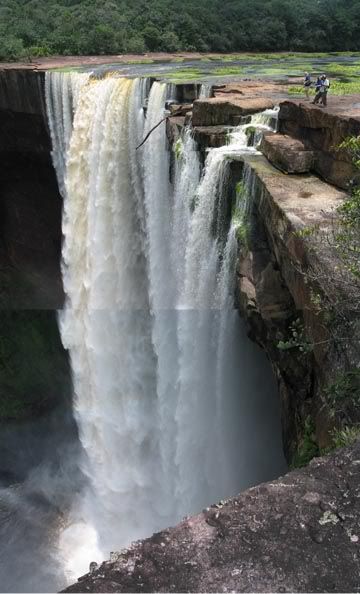 GEORGETOWN, Guyana, Mon. May 8, 2006: A former Jamaat Al Muslimeen member, who was nabbed by Guyana police last last week, has been returned to Trinidad to stand murder charges.
Guyanese authorities deported David "Buffy" Millard, who went by the names Mustafa Abdullah Muhamad and Edmond DeFreitas in Guyana, to Trinidad authorities who flew the fugitive home Friday evening.
Millard is set to appear before a Port-of-Spain magistrate today to face murder charges stemming from the June 4, 2003 death of Jilla Bowen outside the MovieTowne Cineplex.
He also faces charges of conspiring to murder two expelled members of the Jamaat as well as for his role with Abu Bakr in the 1990 coup.
Millard reportedly fled Trinidad to Guyana in August 2003. Guyana Police nabbed him as they continued their investigation in the missing weapons case of February 2006. Thirty-three AK47s and five pistols went missing from the GDF's Camp Ayanganna storage bond late February. Army officials have yet to recover any of the weapons. – Hardbeatnews.com
Link