Kaieteur Falls, the world's highest single drop waterfall (741 feet).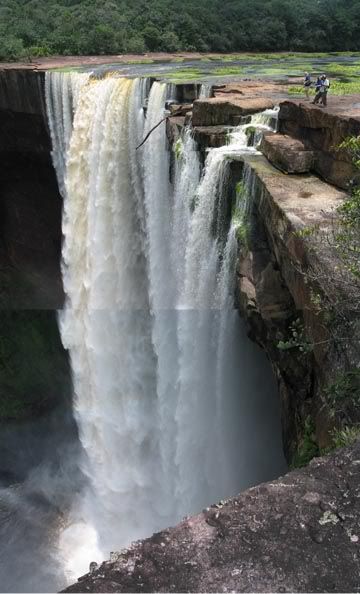 FRANCIS JOSEPH Saturday, May 6 2006 (T&T Newsday)


DAVID MILLARD, also known as "Buffy," the man charged in 2003 with Jamaat al Muslimeen leader Yasin Abu Bakr for conspiracy to murder, was arrested in Guyana on Wednesday night.

When he was held by Guyana soldiers and police, he was carrying a Guyanese passport and driver's permit in the name of Edmund De Freitas. He also told police that he was born in 1960 in a south-western gold mining district of Bartica.

Buffy, also known as Mustapha Abdullah Muhammad, was held with four other persons during a raid on a house just south of Georgetown. One of the other persons was also identified as a Trinidadian, Mohammed Hassin, aka Joseph Aboud.

The authorities reportedly seized a Gerricho nine-millimetre pistol and 57 rounds of ammunition, cell phones, computers, and phone-tapping and call-tracing equipment, among other things.

Buffy was a top member of the Jamaat al Muslimeen and played a leading role at the funeral service of slain Muslim leader Mark Guerra in March 2003. In June 2003, it was alleged that Buffy and Bakr conspired together at his house in Diamond Vale, Diego Martin, to murder two expelled members of the Jamaat — Salim Rasheed and Zaki Aubaidah.

As local police investigators concluded their investigations, Buffy fled Trinidad for Guyana in August 2003. On August 21, 2003, Bakr was arrested and charged with conspiracy to murder. He stood trial alone in January 2005 before Justice Mark Mohammed in the Port-of-Spain Third Criminal Court.

But the jury, on March 16, 2005, failed to arrive at a verdict and a retrial was ordered. The Trinidad and Tobago Police sought Guyana's assistance in 2005 to track down Buffy, but all efforts were unsuccessful.

In November 2005, Bakr was charged with sedition, incitement and terrorism arising out of his Eid sermon at the Muslimeen's Mucurapo Road compound on November 7.

He has been refused bail, but his second trial on the conspiracy to murder charge will begin on October 2.

In Guyana, Buffy has not been charged with any offences, but the police are awaiting word from their Trinidad counterparts on the next step in their investigations.

Buffy's arrest in Guyana came when United States FBI agents teamed up with local enforcement officials and raided a house searching for 30 AK-47 rifles and five pistols which were stolen from the Guyana Defence Force headquarters at Camp Ayanganna on February 23 this year.

The FBI and local officials have been searching Guyanese homes and businesses associated with known drug dealers in Guyana looking for the missing weapons, but instead have turned up with crack cocaine.

It was reported that Buffy told the Guyana authorities that he worked as a bodyguard to a former Guyanese policeman. That person has a housing estate called Hutsonville on the east bank of the Demerara River. All 20 houses in the gated community were searched by security officials on Wednesday. The Firearms Bureau Unit is conducting ballistic tests on the seized weapon, military sources stated.

According to reports, Buffy retained the services of a lawyer, claiming that he cannot be extradited to Trinidad as he is a US citizen. He reportedly claimed that he served in the US army, but Guyana authorities are not worried.

Newsday learnt last night that Buffy will not be deported to Trinidad, but will be charged in Guyana.