Kaieteur Falls, the world's highest single drop waterfall (741 feet).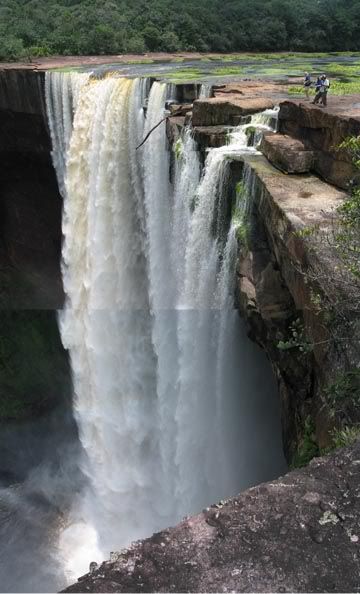 THE CANADA-GUYANA FORUM
INVITES YOU TO A PRESENTATION AND DISCUSSION:
Guyana in Crisis: Crime, Security and the Elections of 2006"
WHEN: Saturday 22nd April
WHERE: WEST END: From 12:30 pm to 2:30 pm at Connections - 5835
Dixie Rd & Shawson. Directions: 1 Block North of HWY 401 Beside the
Best Western
AND
EAST END: From 3:30 PM to 5:30 pm at Scarborough Village RC,
3600 Kingston Rd. For directions contact: 416- 396 - 4048
If you are planning to attend the lunch meeting, please e-mail Derek
Kowlessar (derek@humanitylink.org) or Alissa Trotz (da.trotz@utoronto.ca)
For information contact: Sr. Hazel Campayne (416-920-0132); Jai Parasram
(416-289-1346); Alissa Trotz (416-978-8286)
PLEASE COME OUT AND JOIN US AT ONE OF THESE GATHERINGS FOR A LONG OVERDUE
DISCUSSION!!
I pray that someday there will be peace on Earth.
OUR FIGHT IS WITH IGNORANCE, NOT WITH EACH OTHER! - Jai Parsram
For those of you who have asked to meet with me, I will attending the second meeting in Scarborough from 3:30 - 5:30 and I am looking forward to hearing from all of you !!